Chlorine-Free Pools & Spas-Finally an alternative to chlorine in swimming pools,spas,hot tubs and therapy pools for people chemically sensitive or allergic to chlorine.
No Chemical Smell!
NSF CERTIFIED!
(Scroll down for product information on Residential No chlorine Swimming Pools and Spas)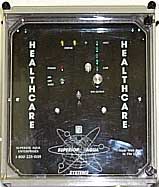 AirWaterBestPrices.com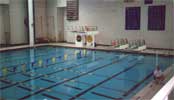 CALL 1-888-420-6247 toll free (Inside USA)
+310-822-4188 (Outside USA)
PRICES START AT JUST $995 for Spas!
Chlorine Free Swimming Pools and Spas You Can Trust!
20 Year Perfect Customer Satisfaction Record!
Better Business Bureau!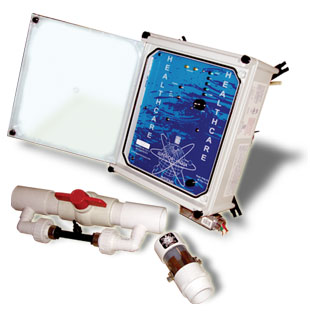 10 Year Warranty / Unconditional 30 Day Money Back Guarantee.

Click here to contact us by email

DONT SWIM ANOTHER SEASON IN POTENTIALLY HARMFUL CHEMICALS*

WHY NOT CHOOSE THE ONLY NSF/UL APPROVED & CERTIFIED CHLORINE FREE POOL and SPA SYSTEM WITH 3 DRINKING WATER TREATMENT TECHNOLOGIES!
MANUFACTURED BY THE WORLD LEADER IN ELECTONIC WATER TREATMENT!
COMPARE: Don't Buy an Uncertified System* SPA UNIT
<![if !vml]>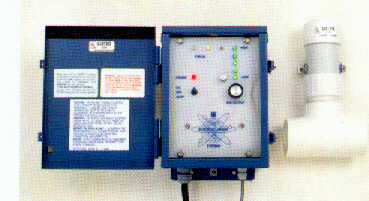 <![endif]>THE HEALTHCARE POOL & SPA SYSTEM IS BETTER, LESS EXPENSIVE, MORE EFFECTIVE AND EASIER TO MAINTAIN THAN BROMINE, SALT, BRINE, BAQUACIL*, IN-TECH*, OZONE, SOFT- SWIM*,AWSOME,THUNDER* POOL IONIZERS, MINERAL SPRINGS*, ENZYMES, ECOSMARTE**, BIONIZER,CL_FREE**,NATURES 2,ECLEAR*, CLEARWATER*, TITANIUM , ZINC ION OR SULFIDE FILTERS OR ANY CHLORINE ALTERNATIVE AVAILABLE TODAY!
STOP WASTING MONEY
ON POTENTIALLY TOXIC CHEMICALS
STUDIES PROVE - *(Reuters) - The American Cancer Society, National Institute for Occupational Safety and Health or NIOSH, National Institute of Environmental Health Sciences and the National Cancer Institute named 19 chemicals on Thursday as potential causes of cancer that deserve more investigation. #15 * Chloroform - found in chlorinated drinking water, ambient air, and some foods, with potential links to bladder cancer in people and mixed results in rodent studies. SOURCE: http://www.reuters.com/article/2010/07/15/us-cancer-chemicals-factbox-idUSTRE66E5AW20100715"
.
WHY WE ARE BETTER:
THE HEALTHCARE SYSTEM IS THE ONLY NSF CERTIFIED
SILVER/COPPER / U.V. MULTI-STAGE PURIFICATION SYSTEM
Compatible with ALL Pool Surfaces and Equipment - INCLUDING ABOVE GROUND POOLS, ENDLESS/THERAPY POOLS and CARTRIDGE FILTERS
The Health Care pool system is UNIQUE and SUPERIOR to all other available systems because it employs and combines 3 PROVEN DRINKING WATER TREATMENT technologies adapted to swimming pools-
The FIRST stage is an ULTRA-VIOLET LIGHT filtration system which oxidizes organic material, chlorine, chlorine by-products, bacteria and viruses and green, black and brown algae.
The SECOND stage is a NASA developed and NSF APPROVED Ion DRINKING WATER Technology which provides a stable, effective and safe (parts per billion) residual of silver and copper ions in your pool water.
Together these two systems ADDRESS ALL Contaminants in your pool water including algae, fungus, mold, viruses, and bacteria. It even REDUCES the POTENTIALLY Carcinogenic Chlorine By-Products (Trihalomethanes,THM's AND CHLORAMINES) that COULD BE in your POOL AND SPA.
*NOTE - WHY YOU SHOULD BUY A HEALTHCARE SYSTEM AND NOT SOMETHING ELSE:
There are UNCERTIFIED and INCOMPLETE
products on the market that either use very high levels of copper above .5** (causes staining),
don't use silver ionization (ecosmarte, cl-free,etc. **) produce harmful long term Titanium free-radicals**, are incompatible with normal filter systems**, require constant and active PH adjusting (adding CO2**), or actually produce chlorine or require chlorine as a residual*(Salt-systems*).
Some even require you to run the pump 24 hours a day! (Baquacil)
Many of these companies SAY they are compliant but have never had their products actually tested by NSF, ANSI, ASTM or UL. Which means they can claim anything they want and operate at unsafe levels of copper and silver.
Please don't be fooled by the cheap prices and outrageous and unsubstantiated claims of these companies. Some are even falsely claiming that Silver is toxic and causes staining - This could not be farther from the truth.
SILVER IS REQUIRED FOR EFFECTIVE VIRUS AND BACTERIA CONTROL!

Our Silver/Copper/UV systems are independently certified as SAFE and EFFECTIVE.
We have many clients who end up coming to us after having bad experiences with these inferior products. WE HAVE A PERFECT CUSTOMER SATISFACTION RECORD FOR OVER 20 YEARS WITH THESE UNITS.
YOU WILL NOT BE DISAPPOINTED!

10 Year Warranty! 30 Day Unconditional Money Back Guarantee!
CALL US TODAY TOLL FREE 1-888-420-6247
CALL 1-888-420-6247 toll free (Inside USA)
+310-822-4188 (outside USA)
FOR OUR SALE PRICES!
Click here to contact us by email
The Product: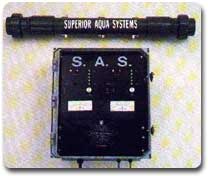 POOL UNIT
RESIDENTIAL POOLS
The most advanced water purification/filtration system available for pools, spas, hot tubs and Jacuzzi's. Safely and effectively treats swimming and bathing water. Addresses and reduces a broad spectrum of bacteria, viruses, algae, fungi and yeast without the use of potentially cancer causing chemical by-products
If you are sensitive to ordinary pool chemicals here is your solution! No more itchy skin or red, burning eyes.
<![if !vml]>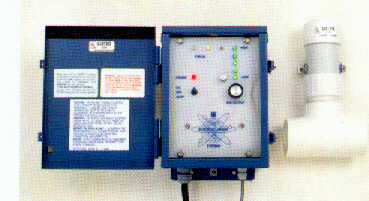 <![endif]>
Reduces chemical usage by 70-90%
Reduces maintenance 50-70%
NSF Certified, UL Listed, ASTM.
Easy to install - THE HEALTHCARE SYSTEM FITS ON YOUR EXISTING POOL IN LESS THAN 30 MINUTES -
THERE IS NO NEED TO DRAIN YOUR POOL - IT WILL EVEN REDUCE THE POTENTIALLY CANCER CAUSING CHLORINE BY-PRODUCTS THAT COULD ALREADY BE IN YOUR
POOL.
Thousands of systems already in use, residential and commercial models available.
Prices start at $995.00 FOR SPAS
NOTE:
BEWARE OF POOL IONIZERS THAT PUT TOO MUCH COPPER IN THE WATER - THEY WILL
CAUSE STAINING AND HAIR DISCOLORATION - STAINING OCCURS AT LEVELS HIGHER
THAN .5PPM - Our systems are certified to operate at .2-.3 ppm. - PERFECT
FOR PEOPLE WITH CHEMICAL SENSITIVITIES.
NOT AFFECTED BY HEAT OR SUNLIGHT - Chlorine and Salt /Chlorine Pools MUST add more Chlorine
or USE STABILIZER ( CYANURIC ACID !!!!!!!!!!!!!!!!!!!*BANNED IN NEW YORK)
*Most SALT SYSTEMS use CYANURIC ACID as a STABILIZER - WHICH HAS BEEN OUTLAWED IN NEW YORK POOLS - Why swim in
A CHEMICAL ALREADY BANNED IN NEW YORK POOLS?

NOTE: ****SALT** OR BRINE ****SYSTEMS** *MAKE CHLORINE!*
THEY PRODUCE CHLORINE AND THE
POTENTIALLY CANCER CAUSING BY-PRODUCTS!
THEY ALSO COST ABOUT $300.00 - 500.00 PER YEAR
TO MAINTAIN BECAUSE OF FLOW CELL DEPLETION.
OUR SYSTEM IS BETTER AND COSTS LESS MONEY.
IT WILL EVEN LENGTHEN
POOL EQUIPMENT LIFE BECAUSE THERE ARE NO CORROSIVE CHEMICALS OR PH LEVELS.
<
This system combines a NASA developed drinking water process with proven water-disinfecting technology to give you a safe and healthy swimming water alternative.
POOL UNIT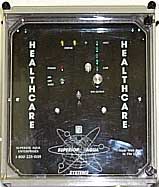 Click here to contact us by email
CALL 1-888-420-6247 toll free (Inside USA)
310-822-4188 (outside USA)
FOR OUR SALE PRICES!
WHAT ARE THE GALLONS OF YOUR POOL?
Just let us know the gallonage of your pool or spa.
Total Gallons = Length x Width x Avg. Depth x 7.5
We'll give you a great price.
Documented Studies Prove:
CHLORINE PRODUCT ABSORPTION IN SWIMMERS IS GREATEST VIA THE SKIN
Lindstrom, A.B., Pleil, J.D., & Berkoff, D.C. (1997). Alveolar breath sampling and analysis to assess trihalomethane exposures during competitive swimming training. Environmental Health Perspectives, 105(6), 636-642
EXERCISING INCREASES THE TOXICITY OF A "SAFE" CHLORINATED POOL ATMOSPHERE
Drobnic, F., Freixa, A., Casan, P., Sanchis, J., & Guardino, X. (1996). Assessment of chlorine exposure in swimmers during training. Medicine and Science in Sports and Exercise, 28(2), 271-274.
YOUNG SWIMMERS AT GREATEST HEALTH RISK IN CHLORINATED INDOOR POOLS
Aiking, H., van Acker, M.B., Scholten, R.J., Feenstra, J.F., & Valkenburg, H.A. (1994). Swimming pool chlorination: a health hazard? Toxicology Letters, 72(1-3), 375-380.
A Few Responses from Our Customers:
Dear 

Campbell

 Environmental Systems:
After battling eczema and asthma problems due to chlorine, we have
now discovered that swimming in pristine water is possible without
chlorine!  My husband and daughter were so bothered by chlorine that
swimming in chlorinated water was no longer an option for them.  I am
so thankful we found the HealthCare System for our new pool and it is GREAT.  The
water stays gorgeous and no chlorine.....I thank God that we found out
about this system.
J. Price
Hi Doug,
The verdict is "we love it".
Thanks
Toniann Moore (Rash Free)
Australia

Sirs:
I WOULD LIKE TO THANK YOU FOR EDUCATING ME ON A PRODUCT THAT YOU CARRY, SUPERIOR AQUA SYSTEMS.
THE DIRECTIONS FOR INSTALLATION WERE EASY TO FOLLOW AND DID NOT TAKE A LOT OF TIME TO COMPLETE.

THE RESULTS WERE FANTASTIC. IT IS HARD TO BELIEVE HOW CRYSTAL CLEAR AND CLEAN THE WATER IS WITHOUT CHEMICALS.
THANK YOU AGAIN.
L.A. DOUGHERTY
IT FITS ON YOUR EXISTING POOL IN LESS THAN 30-40 MINUTES
- THERE IS NO NEED TO DRAIN YOUR POOL.
START SWIMMING SMARTER TODAY!
www.AirWaterBestPrices.comTM
Email:buyafilter@airwaterbestprices.com
Campbell Environmental Systems
specializes in Water Purification and Air Purification - providing products
and technology that offer healthy and safer alternatives in many areas of
everyday life and commercial applications.
We are dedicated to bringing our clients the highest
quality, most effective products at the best prices.
We are also proud members of the BETTER BUSINESS BUREAU
(WITH A PERFECT CUSTOMER SATISFACTION RECORD) for over 15 years!

PLEASE CALL FOR A FULL INFORMATION BROCHURE AND OUR INTERNET SPECIAL PRICES
310-822-4188 1-888-420-6247
CLICK ON THE LINKS BELOW FOR INFORMATION ON OUR OTHER PRODUCTS AND SERVICES

Back To Campbell Environmental Home Page|

*registered trademarks All company names and trade names, BAQUACIL* , OZONE, SOFT- SWIM*, AWSOME THUNDER* POOL IONIZERS, MINERAL SPRINGS*, ENZYMES, ECOSMARTE*, NATURES 2, ECLEAR*,CL-FREE, CLEARWATER*, herein honeywell , enviracaire, alpine, austin air healthmate, allertech, bionaire, airox ,norelco, holmes, amaircare, blue air, fiedrich ,iq air, hunter, are registered trademarks of each respective company - Disclaimer The material provided on this site is for strictly informational and educational purposes only. It is not meant to replace or substitute for the recommendations or advice of your physician or health care provider. The information contained in this site should not be used for diagnosing or treating a health problem or disease. If you believe you have a medical condition or problem contact your health care provider. The statements contained in this website have not been evaluated by the Food and Drug Administration. The products are not intended to diagnose, treat, cure or prevent disease. company.