DOCUMENTED STUDIES OF THE ADVERSE AFFECTS OF CHLORINE AND CHLORINE BY-PRODUCTS IN SWIMMING POOLS
CALL 1-888-420-6247
Start Swimming Safer Today
CLICK HERE TO GO BACK TO OUR CHLORINE-FREE POOL SYSTEMS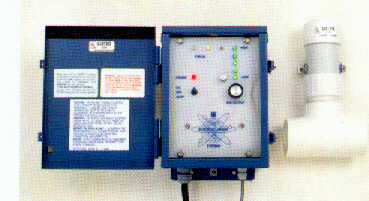 REDUCES CHEMICAL USE
PROLONGS EQUIPMENT LIFE
COMPLETE AND EFFECTIVE PROTECTION
NOT AFFECTED BY HEAT OR SUNLIGHT
NO IRRITATION TO EYES OR SKIN
ODOR FREE AND NON TOXIC
MORE ENJOYABLE SWIMMING ENVIRONMENT
USER FRIENDLY
WORLD LEADER IN ELECTRONIC WATER TREATMENT
The HEALTHCARE SYSTEM is far easier to maintain, less expensive, and you get better results than any other alternative pool filtering system. Better than Salt, Bromine, Baquacil, or Ozone.
Prices for Spas & Swimming pools start at $795.00 (YOU WILL SAVE THAT MUCH IN ONE YEAR)
Call for our promotional discounts.
10 Year Warranty
30 Day Unconditional Money Back Guarantee
JUST TELL US HOW MANY GALLONS YOUR POOL IS: LENGTH X WIDTH X AVERAGE DEPTH X 7.25 = GALLONS
AND WHAT THE VOLTAGE IS 110 OR 220- YOU CAN USUALLY TELL BY LOOKING ON THE PUMP OR ON THE TIMER.
NOTE: There are some, UNCERTIFIED and INCOMPLETE products on the market that either use very high levels of copper (causes staining), produce harmful long term free-radicals, require constant and active PH adjusting, or actually produce chlorine or require chlorine as a residual. Many of these companies SAY they are compliant but have never had their products actually tested by ANSI, ASTM or UL.

The EPA registration only means these products have been listed as a PESTICIDE.

Please don't be fooled by the cheap prices and outrageous and unsubstantiated claims of these companies (Some are even falsely claiming that Silver is toxic and causes staining - This could not be farther from the truth.) Our silver - copper systems are independently certified as SAFE and EFFECTIVE. We have many clients who end up coming to us after having bad experiences with these inferior products. WE HAVE A PERFECT CUSTOMER SATISFACTION RECORD FOR OVER 10 YEARS WITH THESE UNITS. YOU WILL NOT BE DISAPPOINTED!
10 Year Warranty! Unconditional Money Back Guarantee!


CALL US TODAY 1-888-420-6247
CHLORINE PRODUCT ABSORPTION IN SWIMMERS IS GREATEST VIA THE SKIN
Lindstrom, A.B., Pleil, J.D., & Berkoff, D.C. (1997). Alveolar breath sampling and analysis to assess trihalomethane exposures during competitive swimming training. Environmental Health Perspectives, 105(6), 636-642
EXERCISING INCREASES THE TOXICITY OF A "SAFE" CHLORINATED POOL ATMOSPHERE
Drobnic, F., Freixa, A., Casan, P., Sanchis, J., & Guardino, X. (1996). Assessment of chlorine exposure in swimmers during training. Medicine and Science in Sports and Exercise, 28(2), 271-274.
CHLORINATOR TABLETS POSE HEALTH RISKS
Wood, B.R., Colombo, J.L., Benson, B.E. (1987). Chlorine inhalation toxicity from vapors generated by swimming pool chlorinator tablets. Pediatrics, 79(3), 427-430.
The authors presented two cases of serious respiratory injury after brief exposure to vapors from solid chlorine compounds. No previous reports of such accidents were located and, therefore, this paper related these cases to alert the medical community. It was recommend that physicians caring for children include warnings about these preparations in their routine counseling of parents.
Implication. Chlorinator tablets are of such a concentration that acute exposure to them is hazardous.
DENTAL ENAMEL EROSION INCREASED IN COMPETITIVE SWIMMERS IN CHLORINATED POOLS
Centerwall, B.S., Armstrong, C.W., Funkhouser, L.S., & Elzay, R.P. (1986). Erosion of dental enamel among competitive swimmers at a gas-chlorinated swimming pool. American Journal of Epidemiology, 123(4), 641-647.
WHAT IS KNOWN
Exercising competitive swimmers absorb toxic levels of chlorine products in the course of a training session.
Training two or more times a day will not allow the toxins to be completely cleared from the body in most swimmers.
Children inhale more air per unit of body weight than mature persons, and have lesser developed immune and defense systems.
Young children absorb relatively greater amounts of toxins than older swimmers and therefore, are at greater risk.
In hyper-chlorinated pools, even dental enamel can be eroded because of the increased acidity in swimmers in training.
Exercise intensity and number of sessions increase the toxic concentrations in competitive swimmers.
Greater toxin absorption occurs through the skin than through breathing. However, the breathing action alone is sufficient to cause hypersensitivity and "asthma-like" respiratory conditions in at least some swimmers. The percentage of asthma-like symptoms in swimmers that is attributable to exposure to chlorinated hydrocarbons versus being unrelated to chlorine exposure is presently unknown. This is an area clearly deserving of further research.
Overchlorination is particularly hazardous to the health of swimmers.
SWIMMING IN INDOOR POOLS ACCELERATES THE CONCENTRATION OF CHLORINATION CONTAMINANTS IN SWIMMERS
Aggazzotti, G., Fantuzzi, G., Righi, E., & Predieri, G. (1998). Blood and breath analyses as biological indicators of exposure to trihalomethanes in indoor swimming pools. Science of the Total Environment, 217, 155-163.
In this article, exposure to trihalomethanes (THMs) in indoor swimming pools as a consequence of water chlorination was reported.
Environmental and biological monitoring of THMs assessed the uptake of these substances after a defined period in competitive swimmers (N = 5), regularly attending an indoor swimming pool to train for competition during four sampling sessions. Analyses were performed by gas-chromatography and the following THMs were detected: chloroform (CHC13), bromodichloromethane (CHBrC12), dibromochloromethane (CHBrsC1) and bromoform (CHBr3). CHC13 appeared the most represented compound both in water and in environmental air before and after swimming. CHBrC1w and CHBr2C1 were always present, even though at lower levels than CHC13, CHBr3, was rarely present. In relation to biological monitoring, CHC13, CHBrC12 and CHBr2C1 were detected in all alveolar air samples collected inside the swimming pool. Before swimming, after one hour at rest at the pool edge, the mean values were 29.4 +/- 13.3, 2.7 +/- 1.2 and 0.8 +/- 0.8 micrograms/m3, respectively, while after spending one hour of swimming, higher levels were detected (75.6 +/- 18.6, 6.5 +/- 1.3 and 1.4 +/- 0.9 micrograms/m3, respectively). Only CHC13 was detected in all plasma samples (mean: 1.4 +/- 0.5 micrograms/1) while CHBrC1x and CHBr2C1 were observed only in few samples at a detection limit of 0.1 micrograms/1. After one at rest, at an average environmental exposure of approx. 100 micrograms/m3, the THM uptake was approx. 30 micrograms/h (26 micrograms/h for CHC1c, 3 micrograms/h for CHBrC12 and 1.5 micrograms/h for CHBr2C1). After one hour of swimming, the THM uptake was approximately seven times higher than at rest: a THM mean uptake of 221 micrograms/h (177 micrograms/h, 26 micrograms/h and 18 micrograms/h for CHC13, CHBrC12 and CHBr2C1, respectively) was evaluated at an environmental concentration of approx. 200 micrograms/m3.
Implication. Training for swimming in a poorly ventilated indoor swimming pool has the potential to cause illness through breathing undesirable concentrations of mainly chloroform.
CLICK HERE TO GO BACK TO OUR CHLORINE-FREE POOL SYSTEMS
CHLORINE PRODUCT ABSORPTION IN SWIMMERS IS GREATEST VIA THE SKIN
Lindstrom, A.B., Pleil, J.D., & Berkoff, D.C. (1997). Alveolar breath sampling and analysis to assess trihalomethane exposures during competitive swimming training. Environmental Health Perspectives, 105(6), 636-642
Alveolar breath sampling was used to assess trihalomethane (THM) exposures encountered by collegiate swimmers during a typical 2-hr training period in an indoor natatorium.
Breath samples were collected at regular intervals before, during, and for three hours after a moderately intense training session. Integrated and grab whole-air samples were collected during the training period to help determine inhalation exposures, and pool water samples were collected to help assess dermal exposures.
Resulting breath samples collected during the workout demonstrated a rapid uptake of two THMs (chloroform and bromodichloromethane), with chloroform concentrations exceeding the natatorium air levels within eight minutes after the exposure began. Chloroform levels continued to rise steeply until they were more than two times the indoor levels, providing evidence that the dermal route of exposure was relatively rapid and ultimately more important than the inhalation route in this training scenario. Chloroform elimination after the exposure period was fitted to a three compartment model that allowed estimation of compartmental half-lives, resulting minimum blood borne dose, and an approximation of the duration of elevated body burdens. It was estimated that dermal exposure route accounted for 80% of the blood chloroform concentration and the transdermal diffusion efficiency from the water to the blood was in excess of 2%. Bromodichloromethane elimination was fitted to a two compartment model that provided evidence of a small, but measurable, body burden of this THM resulting from vigorous swim training.
These results suggest that trihalomethane exposures for competitive swimmers under prolonged, high-effort training are common and possibly higher than was previously thought and that the dermal exposure route is dominant. The exposures and potential risks associated with this common recreational activity should be more thoroughly investigated.
Implication. In this study the greater importance of transdermal (via the skin) uptake of chlorinated hydrocarbons compared to the respiratory route is demonstrated. This indicates that improved ventilation alone will not have a major impact on exposure to these materials because it is being immersed in the liquid that is the greatest threat. In contrast, ozonation allows markedly reduced levels of chlorine in the pool water.
CLICK HERE TO GO BACK TO OUR CHLORINE-FREE POOL SYSTEMS
EXERCISING INCREASES THE TOXICITY OF A "SAFE" CHLORINATED POOL ATMOSPHERE
Drobnic, F., Freixa, A., Casan, P., Sanchis, J., & Guardino, X. (1996). Assessment of chlorine exposure in swimmers during training. Medicine and Science in Sports and Exercise, 28(2), 271-274.
The presence of a high prevalence of bronchial hyperresponsiveness and asthma-like symptoms in swimmers has been recently reported. Chlorine, a strong oxidizing agent, is an important toxic gas that a swimmer can breath during training in chlorinated pools.
Measurements of the chlorine concentration in the breathing zone above the water (< 10 cm) were obtained randomly during five nonconsecutive days in four different swimming pool enclosures. The mean level in all the swimming pools was 0.42 +/- 0.24 mg/m3, far below the threshold limited value (TLV) of 1.45 mg/m3 for the work places for a day of work (8 h). The TLV could be reached and even exceeded if we consider the total amount of chlorine that a swimmer inhales in a daily training session of two hours (4-6 g) compared with a worker during eight hours at the TLV (4-7 g). Low correlation was observed with the number of swimmers in the swimming pool during the measurements (0.446) and other variables as the water surface area of the pool, volume of the enclosure, and the chlorine-addition system in the swimming pool. A low turnover rate in the air with an increase of chlorine levels through the day was observed in all pools.
The concentration of chlorine in the microenvironment where the swimmer is breathing is below the TLV concentration limit, but nevertheless results in a high total volume of chlorine inhaled by the swimmers in a given practice session.
The possible role of chlorine in producing respiratory symptoms in swimmers needs further investigation.
Implication. Even though chlorine concentrations in a pool environment are at acceptable "safe" levels, it is a swimmer's exercising that produces abnormal levels of exposure to this toxin.
There has not been sufficient research to even begin understanding the health effects of this repetitive exposure.
AMOUNT OF EXERCISE IS RELATED TO CHLORINE-RELATED CONCENTRATIONS IN THE BODY
Cammann, K., & Hubner, K. (1995). Trihalomethane concentrations in swimmers' and bath attendants' blood and urine after swimming or working in indoor swimming pools. Archives of Environmental Health, 50(1), 61-65
The influence of working or swimming in indoor swimming pools on the concentrations of four trihalomethanes (haloforms) in blood and urine was investigated. Different groups (bath attendants, agonistic swimmers, normal swimmers, sampling person) were compared.
The proportions of trihalomethanes in blood and urine correlated roughly with those in water and ambient air. Higher levels of physical activity were correlated with higher concentrations. Within one night after exposure in the pool the blood concentrations usually were reduced to the pre-exposure values. Secretion of trichloromethane in urine was found to be less than 10%.
Implication. Exercising in a chlorinated pool increases the levels of assimilation of chlorine related gases. The greater the amount of exercise, the greater the concentrations. Thus, hard training swimmers are at greater risk than more sedentary pool attendants and coaches.
It takes at least one night for absorbed substances to be removed. If insufficient time exists between training sessions the possibility of toxic build-up is real.
YOUNG SWIMMERS AT GREATEST HEALTH RISK IN CHLORINATED INDOOR POOLS
Aiking, H., van Acker, M.B., Scholten, R.J., Feenstra, J.F., & Valkenburg, H.A. (1994). Swimming pool chlorination: a health hazard? Toxicology Letters, 72(1-3), 375-380.
A pilot study addressed potential effects of long-term exposure to chlorination products in swimming pools.
The indicator compound chloroform was detectable in blood from competitive swimmers in an indoor pool (mean = 0.89 +/- 0.34 microgram/l; N = 10), but not in outdoor pool swimmers. No hepatotoxic effect was indicated by serum glutamate oxaloacetate transaminase (SGOT), serum glutamate pyruvate transaminase (SGPT) or gamma-glutamyl transpeptidase (gamma-GT) enzyme levels. beta-2-microglobulin, an indicator of renal damage, was significantly elevated in urine samples of the slightly, but significantly, younger indoor swimmers.
The precise ratio between these two possible causes, age and chloroform exposure, as well as the mechanism of the former, remain to be elucidated.
Implication. The toxic effects of chlorine products in swimmers training in indoor pools are greater in younger than older swimmers. Young swimmers are therefore at a greater health risk.
CLICK HERE TO GO BACK TO OUR CHLORINE-FREE POOL SYSTEMS
CHLORINATOR TABLETS POSE HEALTH RISKS
Wood, B.R., Colombo, J.L., Benson, B.E. (1987). Chlorine inhalation toxicity from vapors generated by swimming pool chlorinator tablets. Pediatrics, 79(3), 427-430.
The authors presented two cases of serious respiratory injury after brief exposure to vapors from solid chlorine compounds. No previous reports of such accidents were located and, therefore, this paper related these cases to alert the medical community. It was recommend that physicians caring for children include warnings about these preparations in their routine counseling of parents.
Implication. Chlorinator tablets are of such a concentration that acute exposure to them is hazardous.
DENTAL ENAMEL EROSION INCREASED IN COMPETITIVE SWIMMERS IN CHLORINATED POOLS
Centerwall, B.S., Armstrong, C.W., Funkhouser, L.S., & Elzay, R.P. (1986). Erosion of dental enamel among competitive swimmers at a gas-chlorinated swimming pool. American Journal of Epidemiology, 123(4), 641-647.
In September 1982, two Charlottesville, Virginia, residents were found by their dentists to have general erosion of dental enamel consistent with exposure to acid. Both patients were competitive swimmers at the same private club pool. No other common exposure could be determined. An epidemiologic survey was made of 747 club members.
Symptoms compatible with dental enamel erosion were reported by 3% of non-swimmers (9/295), 12% of swimmers who were not members of the swim team (46/393), and 39% of swim team members (23/59). All four swimmers with clinically verified dental enamel erosion had trained regularly in a particular pool. That pool was compared to one that had eight equivalent swimmers without enamel erosion. Examination of the implicated swimming pool revealed a gas-chlorinated pool with corrosion of metal fixtures and etching of cement exposed to the pool water. A pool water sample had a pH of 2.7, i.e., an acid concentration approximately 100,000 times that recommended for swimming pools (pH 7.2-8.0). A review of pool management practices revealed inadequate monitoring of pool water pH.
Acid erosion of dental enamel -- "swimmer's erosion" -- is a painful, costly, irreversible condition which can be caused by inadequately maintained gas-chlorinated swimming pools.
Implication. Overchlorinated pools that produce excessively elevated levels of acidity can contribute to dental enamel erosion in competitive swimmers. Individuals who frequent pools less are less likely to be threatened.
Waterborne Illnesses on the Rise in Public Pools - Silver-based Water Purification Systems Offer a Reliable Alternative to Chlorine
June 16, 2000

---

(Washington, D.C. - June 16, 2000) U.S. Government health officials are launching a campaign to warn against the rise in illnesses caused by contaminated public pools, according to a report released recently by the U.S. Centers for Disease Control and Prevention (CDC). "People need to remember that swimming is essentially communal bathing and the water is not clean and you can transmit diseases if the water is contaminated," said Rachel Barwick, an epidemiologist in the division of parasitic diseases at the CDC.

In 1997 and 1998, the most recent years for which figures are available, 2,128 people were sickened by the water at public pools. In 1998 alone there were 25 outbreaks, the highest number since 1992. The outbreaks generally led to stomach problems and diarrhea, according to the CDC.

Chlorine, a chemical used to treat water in swimming pools, is increasingly coming under fire for the carcinogenic byproducts it leaves in water. Silver offers a healthy alternative. The metal has long been known for its biocidal properties, according to the Washington, D.C.-based Silver Institute. In fact, the Ancient Phoenicians, who stored wine in silver urns to preserve it, provide one of the earliest recorded examples of the metal's use for water purification.

The quest for healthful, odor-free swimming pools began in the 1930s. The discovery that silver and copper ions generated by a mild electric current would adequately sanitize private swimming pools led to serious interest in silver sanitation. New research into silver compounds is providing physicians with powerful, clinically effective treatments against which bacteria cannot develop resistance.

Hundreds of thousands of satisfied swimming pool users worldwide enjoy safe, healthful silver-based swimming pool systems. Owners of silver-based sanitation systems are enthusiastic because there is 1) no caustic odor, 2) no corrosion of nearby metals, 3) no staining of the skin and bleaching of clothing, 4) less cost than chlorine chemicals, 5) no evaporation of silver from the pool to leave the pool waters unprotected (during winter, for example), 6) control of algae growth, and 7) no formation of unwanted compounds. (Chlorine reacts with organic matter such as decaying leaves in outdoor pools to form chlorine compounds such as trihalomethanes, including chloroform, a cancer-risk compound.)

Silver-based sanitation systems offer a healthful alternative to caustic and odoriferous chlorine, which is especially welcome to indoor pool owners. Being chlorine free, silver systems are of special value not only to those who are allergic to chlorine and to athletes who require long hours of swimming and diving practice, but to the physically impaired who require extended therapeutic immersion in pools.

The Silver Institute is a nonprofit international association. Established in 1971, the Institute serves as the industry's voice in increasing public understanding of the value and many uses of silver.

Silver Instittute-2002
BRONCHOSPASM IN COMPETITIVE SWIMMERS
Reuters Health, March 21, 2001.
A study presented [03/20/2001] in New Orleans at the 57th Annual Meeting of the American Academy of Allergy, Asthma and Immunology, strongly suggested that swimming pool environments adversely affect the lung function of competitive swimmers. Dr. Stephen J. McGeady, and colleagues, from Thomas Jefferson University in Wilmington, Delaware, measured the lung function (FEV1) of competitive swimmers (N = 28) before and after cycle ergometer testing in swimming pool and laboratory settings. The study was motivated by observations of university team swimmers displaying significant airway obstruction and the number of reports that many swimmers use beta-agonist inhalers.
Ss' mean FEV1 was significantly lower in the pool than in the laboratory. Some swimmers (14%), not previously asthmatic, displayed airway obstruction at baseline. Exercise-induced bronchospasm occurred in a further 11% of swimmers not known to have that problem or asthma. Swimmers known to have asthma seemed to do better than swimmers who were not diagnosed with asthma. Exercise-induced bronchospasm negatively affected performance.
Implications. Swimming is worse on bronchospasm than other endurance sports, a paradox since swimming is supposed to promote health. The facility/exercise setting is implicated as the cause of these respiratory afflictions. Because of swimming pool environments, competitive swimming could be bad for one's health!
[Thanks to Johnny Morton, former collegiate swimmer, current parent, official, coach and interested observer, for bringing this to my attention -- BSR]
ADDITIONAL REFERENCES
Beech, J.A., Diaz, R., Ordaz, C., & Palomeque, B. (1980). Nitrates, chlorates and trihalomethanes in swimming pool water. American Journal of Public Health, 70(1), 79-82.

Water from swimming pools in the Miami area was analyzed for nitrates, chlorates and trihalomethanes. The average concentrations of nitrate and chlorate found in freshwater pools were 8.6 mg/liter and 16 mg/liter respectively, with the highest concentrations being 54.9 mg/liter and 124 mg/liter, respectively. The average concentration of total trihalomethanes found in freshwater pools was 125 micrograms/liter (mainly chloroform) and in saline pools was 657 micrograms/liter (mainly bromoform); the highest concentration was 430 micrograms/liter (freshwater) and 1287 micrograms/liter (saltwater). The possible public health significance of these results is briefly discussed.

Mustchin, C.P., & Pickering, C.A. (1979). "Coughing water": bronchial hyper-reactivity induced by swimming in a chlorinated pool. Thorax, 34(5), 682-683.
Decker, W.J., & Koch, H.F. (1978). Chlorine poisoning at the swimming pool: an overlooked hazard. Clinical Toxicology, 13(3), 377-381.
Discussion Points
Governmental regulation agencies have standards for PASSIVE air in enclosed swimming pools. At least that was the case the Carlile Organization experienced at Narrabeen several years ago when many of its top swimmers were ill. The supervising staff did all the environmental testing and the air was deemed to be safe and within published guidelines. Even after the declaration that the air was "good" swimmers remained ill particularly with upper respiratory problems.
However, according to the above research an exercising athlete increases the toxicity of the chlorinated pool atmosphere by 700%! That should be a high-level health risk! Safety accrediting agencies need to upgrade their standards to be reflected in active alveolar air, not passive environmental air.
People in swimming over the past decade have become alarmed at the high proportion of training swimmers who are diagnosed/treated asthmatics. However, "swimming asthma" might well be hypersensitivity to chloroform and the other gases as explained in the abstract and not truly asthma.
Is it possible that our sport might be generating life-long health problems purely because of the environment in which swimmers are continually exercised? If that is so there is a MAJOR PROBLEM WITH OUR SPORT.
I would appreciate hearing of any learned writings or investigations on this matter.
---
Selected Replies and Comments (May 30, 1999)
A number of replies and comments about this problem were received from coaches from four countries. The general impressions of these inputs were as follows.
Teams who train part of the year indoors and the other outdoors, have some swimmers and coaches who suffer respiratory problems while indoors but those problems disappear when they revert to an outdoor pool.
Some swimmers are diagnosed with respiratory problems when indoors and use respiratory medications during practice. However, when they go outdoors the use of medications drops off markedly.
Some swimmers who only train indoors in chlorinated pools become so ill that they no longer can compete or train effectively. They are chronically ill.
Coaches are just as susceptible to chlorine toxicity indoors as are swimmers and suffer similar respiratory problems but also have their voice altered and cough more noticeably.
Ozone water-treatment systems alleviate the chlorine-related problems in both coaches and swimmers.
---
January 27, 2000
From Edward P. Mjolsnes, P.E.
EMDS/Consulting Engineers
Anchorage, Alaska
"Ozone vs Chlorine
Over the past couple of decades the technology for ozone application in the areas of sanitizing liquid streams has made tremendous strides, both in effectiveness and cost reduction (installation and operating). There is a movement from chlorine usage to ozone application in both the municipal water supply and waste water treatment areas. The known hazards with the use of chlorine dictate the pursuit of other methods of achieving the same sanitizing results.
It is getting to the point that the trade-offs between ozone and chlorine for indoor swimming pool design is such that ozone is becoming the more economical. When you consider the economics and the health/safety issues it is getting to the point that some of us in the engineering field are saying that the failure to use both air to air heat exchangers and ozone in an indoor pool design constitutes 'professional negligence.' "
---
April 12, 1999
From Dr. Larry Weisenthal, noted pathologist, oncologist, avid swimmer, and student of swimming, from Huntington Beach, California.
I have a study somewhere that examined the concentration of trihalomethanes in the zone immediately above the water, where the swimmer breathes. There was, I recall, a strong gradient, with very high levels in the breathing zone.
Our local swim club, which trains in a community college pool, used to have a number of kids with inhalers at the end of their lanes to treat their asthma. Two years ago, the college converted the pool to an ozone water disinfection system. Chlorine concentrations in the water are much lower, the pool is a joy in which to swim; the water "tastes" wonderfully clean and fresh, almost like a clean lake. There is little or no chlorine residue on the skin. The remarkable occurrence was that, after the pool was ozonated, every single one of the inhalers disappeared. They were no longer needed. Nine months later, a nationally ranked swimmer who made finals in several events in the 1997 Pan Pacs, transferred to our club. She had inhaler-dependent asthma. To her parent I predicted she would no longer require her medications after a couple of months in our pool. My prediction was correct.
I later learned that the Santa Barbara Swim Club trains out of two pools -- one chlorinated and the other ozonated. A number of swimmers training in the former pool require inhalers while there are none at the latter. When I discussed this on the Internet, I received a communication from Massachusetts, in which the respondent described the reverse of my own club's situation: they switched from ozone to conventional chlorine. They also had the emergence of new inhalers at the ends of lanes where they were previously not to be found.
So I think that the high incidence of asthma in swimmers is iatrogenic, rather than resulting from selection, or gravitation to the sport by asthmatics who find swimming to be less problematic for their asthma than they find land sports. Ironically, I believe that swimming in conventional chlorinated pool exacerbates exercise-related asthma, rather than diminishes it. So the answer is not necessarily with ventilation, although good ventilation is desirable for many other reasons, but with reducing the concentrations of halogenated organics in pool water through replacement of chlorine disinfection with alternatives. Ozone seems to be a desirable replacement
---
AN EXCHANGE -- July12, 1999
COMMUNICATION
I have read with interest your papers discussing the quality of air in indoor heated swimming pools, a subject that is close to my heart at the moment. I am a member of the committee at the ------- Amateur Swimming Club, South Australia and we are having many problems with pool vapours during the southern hemisphere winter.
Reading the articles on your web site was like turning on the light in an otherwise dark (information) world. I have been having a hell of a time convincing local authorities that the swimming conditions at our pool during winter are becoming unhealthy for our young and old swimmers alike. Many times during our evening swimming sessions, swimmers have to stop mid-stroke to cough and splutter for oxygen. These children and adults are not asthmatics nor do they have any history of breathing difficulties. As a concerned parent, I have demanded that the sliding doors that surround our pool be opened by pool staff when the pool vapours are present. This temporary measure has met with resistance and has been stifled by the "pool bureaucrats" who insist that opening the doors raises the heating costs and sends learn-to-swim parents away from the pool in their droves affecting revenue. What do you suggest we do about this problem?
We have enlisted the assistance of a "pool consultant" but as yet his findings are inconclusive other than his statement that "breathing in chloramine vapour is not harmful to your health". Is this in fact true and has it been empirically tested?
REPLY
I know the problem you are having with that quaint individual, the Australian facility supervisor. Your story is very similar to the Carlile experience at Narrabeen that eventually led to the termination of the careers of at least two top swimmers.
See if a lawsuit is possible? The endangerment of children's health in chlorinated environments is important. It is stupid for someone to say, "breathing in chloramine vapour is not harmful to your health." If it were not there would be no need for pool atmosphere standards.
The problem is that standards are developed for inactive individuals in a static environment. When individuals become active and the environment becomes turbulent (water is churned and the air circulates to produce a "toxic build-up") the poisoning is much worse. As you have pointed out the only solution in your situation is to reduce the irritation to breathing -- flushing the air as much as possible by diluting and/or removing it with "clean" air. At least that should reduce the toxicity.
---
COMMUNICATION -- December 25, 2000
I was reading the articles regarding chlorine effects with great interest. I realize that this was with acceptable levels of chlorine and how serious the effects are. I was exposed to a high concentration last year when I opened a poorly ventilated pool in which the chorine had built up overnight to about a level 10. I now have severe asthma and my doctor is not too forthcoming about what I can expect in the future. All I know is right now I can't work in indoor pools for the winter as I am super sensitive to chlorine (as you can imagine) and there are no ozone pools in my area. It has been heartbreaking to have to quit swimming, teaching, and coaching since the summer ended.
I am glad that I found your article. My brother is on the board at the YMCA where my accident happened. I have been trying to get across to them the importance of repairing their ventilation system before this happens to someone else. Maybe this article will help.
Thanks, BP
PART OF REPLY
BP: Thanks for this. I do not know of any other references other than those I have in the SSJ. I am personally convinced that the reason so many swimmers have to use VENTOLIN is because of chlorine poisoning. I believe there is another alternative water treatment using hydrogen peroxide. With it, chlorine is still used at a concentration of .5, not the 3+ that seems to be prevalent today. Do you know that in the "old" days, the standard used to be .5 in indoor pools, and we never had respiratory problems? Since the concentration has risen so much, so have the respiratory problems.
---
A POSSIBLE PROCEDURE TO REDUCE THE THREAT OF CHLORINE TOXICITY IN CHLORINE SANITIZED POOLS
[The full text of the article, A report of the advantages of using a dual stage method of sanitation, that supports the contentions of this brief summary is available
Chlorine is a deficient method of pool sanitation. Chlorine concentrations decline very quickly under a variety of swimming pool and environmental conditions. To combat the decline in effectiveness problem with chlorine alone, pool managers often over-chlorinate a pool (>3 ppm) to offset chlorine reduction. It is that heightened concentration that leads to excessive absorption through the skin and inspiration that leads to breathing problems in many swimmers.
The referenced article provides evidence that allows pool sanitation to remain at a high level of effectiveness while the level of chlorine is reduced, probably to a non-toxic level. The solution involves mixing silver and copper ions with reduced levels of chlorine.
Silver and copper attack and kill bacteria and viruses more effectively than chlorine. When added to lower than customary levels of chlorine (~.05 ppm), an extremely effective sanitation of swimming pools results. It is a better sanitation combination than chlorine alone.
Implication. Pool sanitation is improved when copper and silver ions are mixed with low levels of chlorine. This "dual method" is easy to implement and is within all known health laws. The potential to cause "swimmer's asthma" is likely to be reduced or eradicated.
CLICK HERE TO GO BACK TO OUR CHLORINE-FREE POOL SYSTEMS
www.airwaterbestprices.com

TM

Email:buy a filter@airwaterbestprices.com

CLICK ON THE LINKS BELOW FOR INFORMATION ON OUR OTHER PRODUCTS AND SERVICES
Water Filters | Whole House Water Systems | Water Vending Machines | Healthy Carpets & Floors
Air Filters | Back To Campbell Environmental Home Page| Shower Filters| Whole House Air Filters
---