Cigarette smoke air filter, air cleaner and cigarette odor air purifier for smoking areas, smoking lounge, smoke filled bars, hotel rooms Air purifier removes cigarette smoke and cigarette odor, air cleaner filters tobacco, cigarette, cigar smoke and cigarette odors, Odors from Smokers, remove odors from smoking areas, smoke removal,
AIR PURIFIERS and HEPA AIR CLEANERS FOR CIGARETTE
SMOKE and ODORS
Residential and Commercial Models
This is
ALLER AIR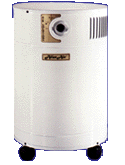 the air cleaner everyone is talking about. If you are serious about your health, GET THE BEST!

Remove tobacco Smoke, Odors and Chemicals with Aller Air's unique tar - trapping

filter combined with HEPA /activated carbon filtration

Filters and traps over 400 different CHEMICALS, ODORS and PARTICLES from tobacco smoke.

Allows smoke filled air to be cleaned and recirculated.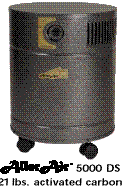 4000 and 5000 DS Air Cleaners and Purifiers
Specially designed to deal with tobacco smoke and odors.
For Bars, restaurants, hotels, smoking lounges.

Can be positioned anywhere you need it!

OR FLUSH MOUNT

Electrostatic devices:

not as effective.
Electrostatic air filtration devices only filter the particles in tobacco smoke

but leave the toxic chemicals.

Electrostatic filters become quickly filled and ineffective;

requiring frequent and expensive changes.

Ozone, which damages the lining of the lungs, is given off by electrostatic air filtering

device filters. The EPA has issued a warning on the dangers of breathing ozone.

Tar builds up on the electronic plates and toxic materials are emitted back into the air.

Always

call for our UNBEATABLE PRICES™
IF YOU BUY SOMEWHERE ELSE, YOU PAID TOO MUCH! ™
DON'T OVERSPEND!

Call

1-888-420-6247(toll free)

.(Click here to contact us by E-MAIL)

SPECIAL ARRANGEMENTS AND DISCOUNTS FOR FEMA, INSURANCE,
CAFETERIA PLANS, MILITARY & SERVICE PERSONNEL


WE MAKE YOUR ASSISTANCE MONEY GO FURTHER!

<>
(Perfect Customer Satisfaction Record) Since 1992

The Nature of Tobacco Smoke

Tobacco smoke consists of tars, water vapor, carbon dioxide, nicotine

and over 400 other chemicals.

Tars accumulate on drapes, furniture, clothing, walls and other surfaces and continue

to release tar vapors and odors long after active smoking has stopped.

Adsorb tobacco smoke, odors and chemicals with AllerAir's unique tar - trapping

filter combined with activated carbon filtration

The tar- trapping filter traps tar like a cigarette filter.

The activated carbon absorbs the airborne chemicals, gases and odors.

Activated carbon absorbs up to 60% of its own weight of airborne chemical compounds.

The CM-S series have 15 to 21 lbs of specially blended activated carbon.

Carbon traps and removes the gases and odors permanently.

It does not mask them or move them to another area.
CLICK THE LINKS BELOW FOR INFORMATION ON OUR OTHER PRODUCTS AND SERVICES
HEPA Vacuums-The finest HEPA vacuums available (click here)
CAR AIR FILTERS / HEPA VACUUMS / CLEAN AIR PRODUCTS
Drinking Water Purification Systems
WHOLE HOUSE POINT OF ENTRY AIR FILTRATION
COMMERCIAL AND SPECIAL AIR FILTRATION, ODOR, FUME EXTRACTION
BACK TO TOP OF CAMPBELL ENVIRONMENTAL HOME PAGE
CHLORINE-FREE SWIMMING POOLS
AND SPAS
| Back to Campbell Environmental Home Page
Replacement Filters Most Brands
WHOLE HOUSE POINT OF ENTRY AIR FILTRATION
COMMERCIAL AND SPECIAL AIR FILTRATION, ODOR, FUME EXTRACTION
BACK TO TOP OF CAMPBELL ENVIRONMENTAL HOME PAGE
| Back to Campbell Environmental Home Page
Replacement Filters Most Brands